Get Back on the road faster, safer, with Axle Surgeons® mobile spindle replacement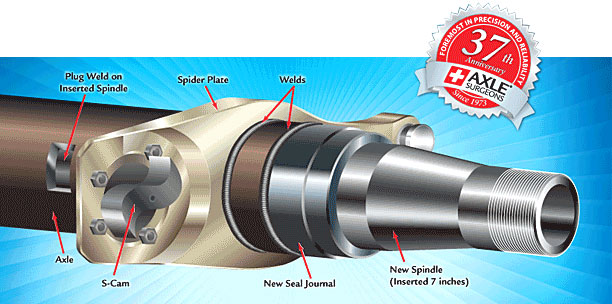 Axle Surgeons® replaces damaged drive and trailer spindles on vehicles 3/4-ton and up.
Get up and running with fast trailer spindle replacement and free spider plate inspection from Axle Surgeons®
Mobile.
We go to you, on the road or in your shop
Replace with new spindle.
No need to remove axle housing. Fast and less costly than new housing.
Stronger than new.
Axle Surgeons® replacement techniques are safer, more durable, than old-fashioned pateches or repairs. Only certified Axle Surgeons® are trained to use our new, more effective and fully patented process and products.
Authorized and Certified.
Only authorized Axle Surgeons® are licensed to display this logo – your assurance of genuine Axle Surgeons® quality.
Axle Surgeons® is there when you need help to…
Replace damaged drive/trailer spindles
Sleeve loose steer axle king pin holes
Sleeve loose steer spindle king pin holes
Replace Mack trunion shafts
Replace damaged or worn brake spider or sleeve s-cam holes
In-line bore articulation and pivot points on construction and industrial machinery
---
Get back on the road faster, safer, with Axle Surgeons® mobile spindle replacement
Reduces downtime
Saves on repair costs
Stronger than new
No need to remove housing
Nationwide service